Kelly Hock
Printed/PDF Receipts
There are two main areas where receipt options are located: Within the settings for workforms in Polaris at each workstation (the workstation settings cannot be controlled centrally by the CLC), and in the System Administration tool, which are changed by the CLC.
---
The CLC has limited control over the look, and even the content, of receipts. Below is an overview of each printed receipt type and the available settings in SA to customize receipts:
Fine Receipt
Lists the fines and fees paid or waived for overdue items, replacement items, and other fees for a patron.

Options in SA: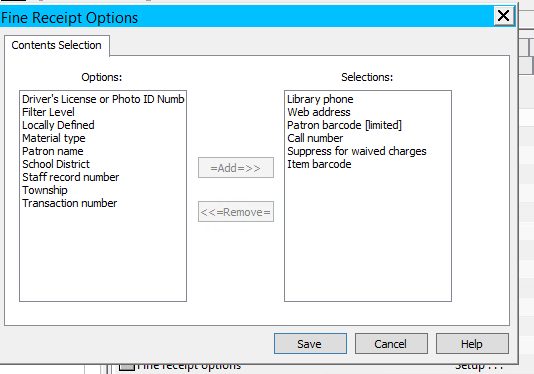 Items Out Receipt
Printed from the Patron Status workform - Items Out view, this receipt lists all the items a patron currently has checked out.

Available SA settings:
Check-In Receipt
Lists the items checked in for a patron or group of patrons. If items are selected from multiple patrons, the items are grouped by patrons, and three blank lines are added at the end of each group. If auto-cut receipt printing is enabled, the receipt is cut at the end of each patron's group of items. (Items with no patron information, for example those that went from In to In at check in, are also grouped together and separated from patron items.)

Settings available in SA: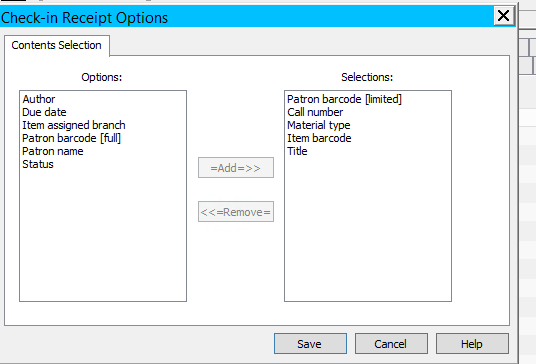 Check Out/Renewal Receipt
Lists the items checked out or renewed for a patron during a circulation session.

Available options in SA: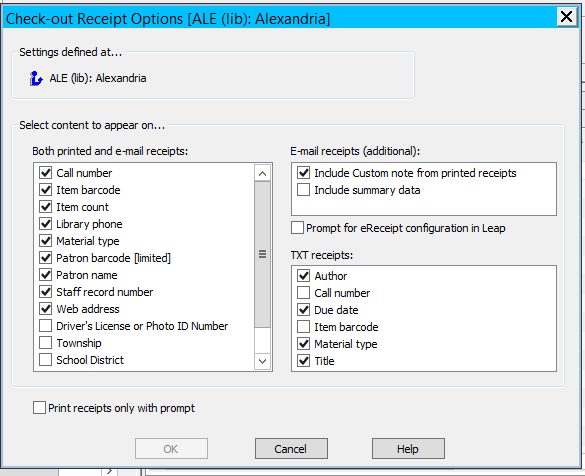 Hold slip
A hold slip prints automatically when an item's status becomes Held as a result of a circulation transaction (for example, the item is checked in). Libraries typically place the hold slip with the held material for identification purposes. The slip also prints when an ILL item is received on the Request Manager workform - ILL Requests view.

Available options in SA
Hold Pickup Slip
For libraries that allow patrons to pick up their own held items. This slip is inserted in the book so that the patron's name (in a specified format) and the pick-up date are visible on the shelf. By default, this slip is printed horizontally on the receipt paper, and requires a line mode receipt printer such as a Star® TSP600, Star TSP700, or Dell™ T200. The settings for this slip also apply to an equivalent ILL pickup slip, printed when an interlibrary loan item is received. Vertical printing settings are also available.

Available options in SA: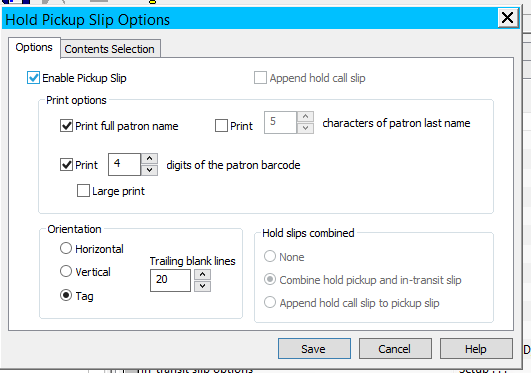 In-Transit Slip
Prints automatically when an item's status changes to In Transit (because it belongs to another branch) or Transferred (because it will fill a hold and needs to be sent to the pick-up library) during a circulation transaction. You can also choose to print the in-transit slip only when the status changes to Transferred (see Set the workstation to print receipts and slips). In Polaris Administration, you can choose the information to include on the slip and select the option to combine the in-transit and pickup slips.

Available options in SA: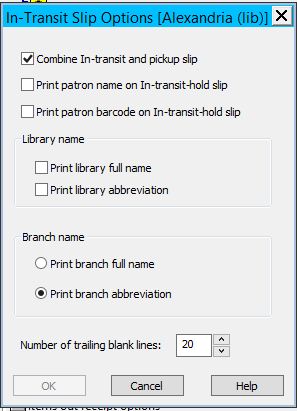 Combined Hold Pickup/In Transit Slip
All CLC libraries began using combined In-Transit/Hold Pickup Slips in spring 2017. See this Discourse article for detailed information about how combined slips are set up and the workflow for using the combined slips.
eReceipts
In Leap, patrons can be set up for eReceipts on the fly. If they don't have an email address, then Leap will prompt the staff member to enter one. That email address will automatically be added to their patron account and the eReceipt for that transaction will be sent.
In the client, the patron must already be set up to receive eReceipts when a transaction takes place.
If e-receipts are enabled, but the patron doesn't have an email address on their account, you may get a warning message when saving the account.
Available options in SA: