Kelly Hock
Polaris Notices Overview
Polaris notices are set up in System Administration by the CLC. The settings are determined by the library. Most of the wording in your notices can be customized. If you have any questions about, or want to make changes to your notice settings or notice wording, please open a HelpDesk ticket.
Notice Types
Overdue and Bills
You can set up to 3 overdue notices before the patron is billed for the material cost of the overdue item(s).
The "Notice Interval" is the number of days past the original due date (not the last notice date) when the notice will be sent. Since some patrons receive print notices, we recommend spacing the overdue notices a week or more apart to make sure patrons receive one notice before another is generated. If the Notice Interval is set to 0, then patrons won't receive that overdue notice.
Bills are normally print only. That allows staff members to pull out billing notices for special circumstances where the patron should be billed, but shouldn't receive a notice.
For all CLC libraries, when a billing notice is created for the patron, their items are automatically set to Lost. Items will not be automatically set to lost unless the patron is billed for that item. For this reason, all patrons should be set up to receive notices. They should never have a notification method of (none). This article explains how to set up patron account to be billed (and the items set to lost) without the patron receiving the notices.
If you need to re-generate a bill for a single patron, you can create a billing statement for that patron.
Polaris can combine overdue, bill and request notices (in that order) so that a single notice is sent. The same notification method should be used for each of the separate notices and the combined notice to ensure all notices are received.

The combined notice SA setting only applies to EMAIL notices. You can always elect to use the combined PRINT notice type even if the SA setting is not checked.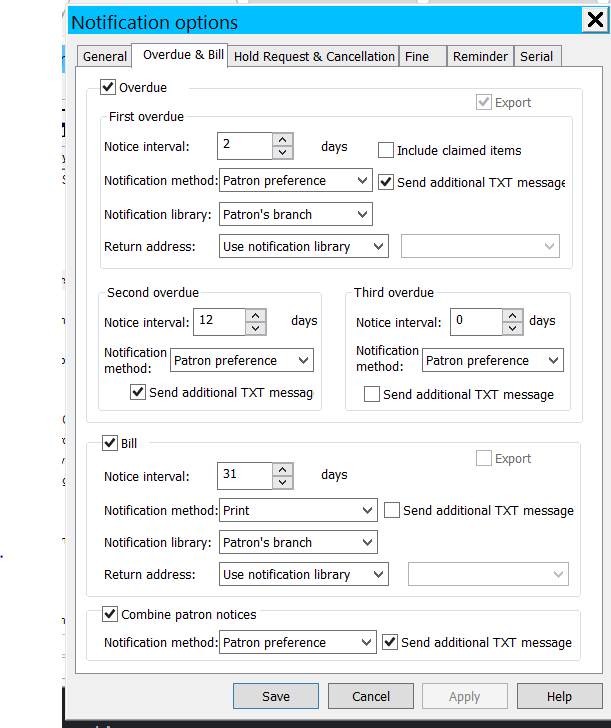 Holds and Cancellations Notices
Hold notices are sent when an item becomes Held.
For all notices EXCEPT phone notices they are also SENT by the pickup library. For phone notices, the notice is sent by the patron's registered library.
You can send up to two hold notices and decide on how many days apart the notices should be sent.
Both hold notices will have the same wording, CLC has submitted an enhancement request to allow for different wording for each notice, but this is not currently possible.
---
Cancellation notices are sent from the pickup library - The text notices for cancellation notices do NOT include the pickup location by default.
Cancellation notices are not sent for unclaimed items. The following will trigger a cancellation notice to be sent:

The last item linked to a bibliographic record is deleted
A purchase order is cancelled
A request is manually cancelled from the staff client
A request is cancelled from PAC
Below are the options available for Hold Request and Cancellation notices

Fines
Fine notices are separate from overdue/billing notices. They are sent when the patron's fine amount exceeds a certain set dollar amount, AND the fines have been at that amount for over a certain number of days.

For example, if your fine notice settings are set to $10.00 for any fines over 7 days old, any fines or fees on a patron's account (including lost and overdue fines) that cause the patron account to exceel $10 will generate a fine notice.
For more in-depth information about fine notices, including whether you should be using fine notices, how many patrons can receive, and how to see when a patron has received a fine notice, see Information about Polaris fine notices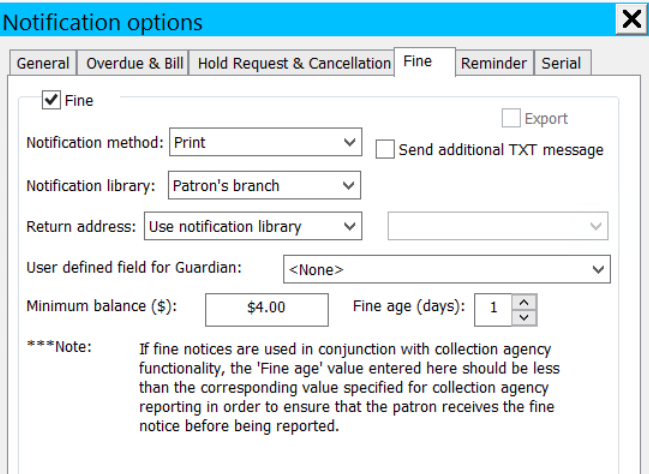 Reminders
Reminders are email ONLY notices that are sent out before an item is due or auto-renewed to remind the patron of what items are coming due, will be auto-renewed, and also includes a list of other items checked out to the patron More details about reminder notices can be found in this article.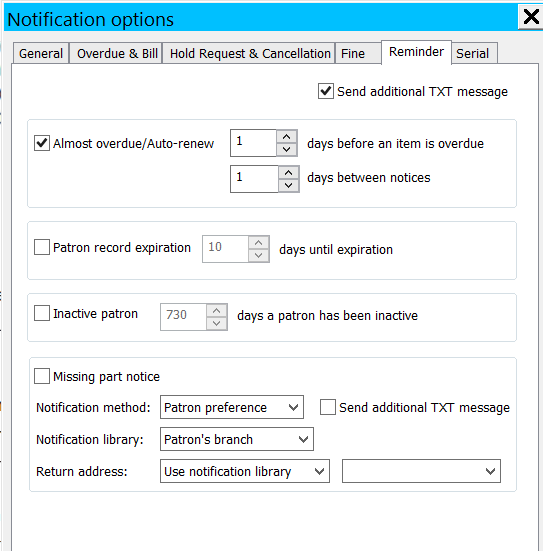 Serials
---
Ways / Methods Patrons Can Receive Notices
Most libraries elect to deliver notices via the patron's preferred method. This means that the notice will be delivered to the patron based upon the Notification option listed in their patron registration account.
Reminder notices canNOT be delivered via Print or Phone
Polaris only records the Primary notification method in the patron's status account
If a library forces a certain notification type to be delivered via a particular method (e.g. Email) and the patron does not have that method on their account, then that particular notice will be "stuck" for that patron.

For example: The library has set Bills to be delivered via Email only, the patron has no email address on their account. A bill will NEVER be generated for that particular patron and their items will NOT go to lost.
Phone
Most libraries use CLC's telephony system to deliver phone notices, in articles, you may see CLC's telephony system described as Twilio.
Phone numbers on patron accounts should be 10 digits, but may include dashes or period separators. Do NOT include a 1 prefix when entering a phone number or the call may not go out.
Phone notices are ALWAYS sent by the patron's registered library.
Email
Patrons will not receive email notices if ONLY the alt email address field is populated. There is an existing enhancement request to fix this.
If a patron isn't getting emails and keeps showing up in the bounced record set, the staff should check the Rejections list to make sure the address listed there.
You can view emails that have been sent to an address by following these instructions: Where can I go to find what email notices were sent to a particular address?
There are character limits to the different parts of email notices:

Limits for the email notice strings in WebAdmin:
Subject heading = 50 characters
Body = 1020 characters
Footer = 500 characters
Print
If the patron has more than one physical mailing address on their account, then the "Notices address" from the patron's registration record will be used as their print notice mailing address.
The CLC does not print notices on behalf of our members. Libraries should use the Polaris staff client to regularly generate their own print notices, using one of the following reports:
Combined Notice Full Page Mail

You can print combined notices even if you've not selected the combined notice SA option (that option only applies to email notice). If you print combined notices, the combined notice wording will be used on the printed notices.
Text / SMS
This article describes what time of day SMS notices are sent by the CLC.
To see a list of text messages that have been sent recently, follow these instructions.
The wording for text notices is editable by the CLC, but is limited to 160 characters.
CLC supports automated handling of STOP messages: Handling SMS STOP messages in Polaris
Phone numbers on patron accounts should be 10 digits, but may include dashes or period separators. Do NOT include a 1 prefix when entering a phone number or the call may not go out.
Additional Text
Patrons can also receive text messages in addition to their primary notification method.
In addition to being enabled on the patron account, the notice type must also be enabled to support the Additional TXT feature. See the Notice Types section above for examples of the different notice types.
Additional text messages don't have a transaction history entry or a notification history entry in Polaris, so it's NOT possible to tell that the patron received the additional text message in Polaris, or when the message was sent.
---
Notice Wording
Polaris notice wording can be customized at the library or branch level. If wording hasn't been customized, Polaris uses the default wording that has been pre-populated. Please enter a HelpDesk ticket if you want to update your notice wording.
To see your notice wording, including telephoney wording, see this Report. The report contains information on the settings (such as the intervals) for your notices as well. If you need help interpreting any information on the report, please open up a HelpDesk ticket.
This article has information what foriegn langauges can be used in Polaris notices.
There are character limits for notice wording. When counting characters, keep in mind that any dynamic data, like title, branch name, or date, will increase the character count. The character limits are as follows:
Email:

Subject heading = 50 characters
Body = 1020 characters
Footer = 500 characters

SMS text notices:

Limited to 160 characters TOTAL, including dynamic text like branch name and title; more than that would run over into a second text message, if the carrier allows that.
Titles are truncated at 20 characters
The entire branch name is displayed; libraries should count the characters of their longest branch name when customizing the text to display. This is a bug; it may be fixed in a future uprade to display only 20 characters.
---
Related Articles