Alex Graham
Overview
The Polaris Offline Circ module is used when the Polaris system is unavailable due to an unforeseen situation or a system upgrade for several hours or longer.
If the system is going to be down for a few minutes to an hour you can use such methods as scanning barcodes into a word document or hand writing. Once the system is back online from a brief outage you can scan or type in the transactions.
Because the checkouts in offline mode are saved in a file to be updated later, you will want to coordinate going offline with the person who uploads the files after Polaris is back online. The files must be uploaded into Polaris before staff begin using it normally again.
Using the Polaris Client in Offline Mode
Once you get the OK to begin using offline:
Offline circulation should only be used for checkouts. Do not check in material while Offline.
While it's possible to register a patron in Offline mode, it requires additional setup. A separate and dedicated computer must be used for loading of new patron records. If you load new patron records the transaction file on that computer must be uploaded prior to the transaction files on the other circ computers.
To start Offline Mode , launch the Polaris client and check the Work off-line box. Enter your username and Domain if it's not filled in, and click OK.
Once you are logged in, go to Circulation, Check-Out to begin work. This screen shot shows that an item was just checked out to a patron in offline-mode. Be sure to set the Loan Period to 21 days.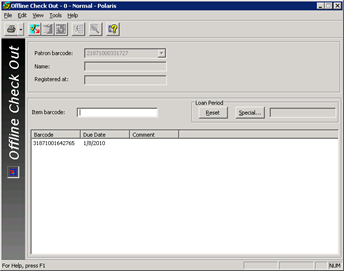 After Polaris is back up, wait until you get an OK before using it normally. All offline files must be processed before using Polaris again.
Using Self-Checks Offline
Going into Offline Mode on the Self-Checks:
If the network is down before the Self-checks are turned on the Self-checks will ask when they boot up if you want to use Polaris Offline. Press "Yes" on the touch screen to go into Offline Mode.

If the network goes down during the day, the Welcome screen will freeze up and patrons will not be able to scan or type in their barcode number. Reboot self-checks so that you get the offline prompt and press "Yes" on the touch screen to go into Offline Mode. (You will need to do a "hard" reboot – press the power button on the computer until the screen turns off. Release the power button, wait a few seconds then turn the computer back on.)

Once in offline mode patrons will be able to checkout only if they have their library card to scan. This is done for patron security account reasons, since patron PINS cannot be verified against their barcode in offline mode.
Working with offline files
If you registered patrons during Offline, those files should be uploaded first before the check files.
When you are ready to process/upload your data, login normally and go to Circulation, Bookmobile.
You will see your file(s) ready to be uploaded, or you can click on Find File and browse to the file(s). The default path is indicated here. You will also notice that you can award free days as you process these transactions. Choose the file(s) from the window by clicking and holding down the Ctrl key, and then click on Upload File to start processing. (Holding down the Ctrl key allows you to choose multiple files.)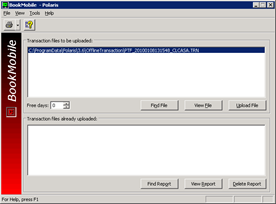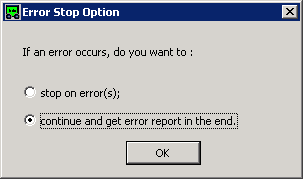 When you click on the Upload File button to begin processing, you will get this dialog box every time and the correct default setting is shown here.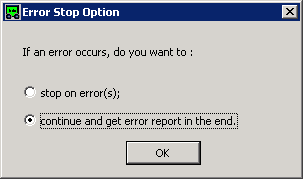 This screen shot shows that all files have been processed, and there will be a .log file for every .trn file that has been processed.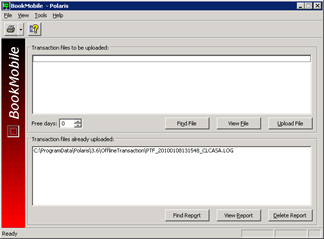 You can click on the View Report button to see the results of the processing. This screen shot shows one transaction with no errors or warnings.
The next example shows what a warning looks like.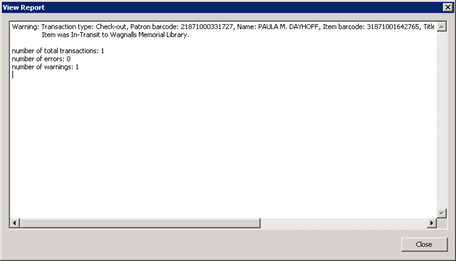 For Self-check PCs, an appointed Circulation person in charge or an IT Staff
person should do the following:

Run the script named SelfcheckTranctCopyUpScript

You will see a black window with white writing while it downloads files from all self-check machines. It will transfer them in this order Selfcheck1, selfcheck2, etc.

If you see a message that says something like "Duplicate files already exist" or no files found to download, this means that particular self-check was not used and there are no files on it to upload. It could also mean that self-check is off. If you know for sure that machine was used and get the message above, please start the machine and run the script again. Otherwise, just wait for the script to run and when it is finished it will automatically close the black window.

You are now ready to upload and process the files by using the Polaris Offline instructions.
Resetting workstations and ExpressChecks after Polaris is back online
These steps are critical to making sure that patron accounts stay accurate so these steps must be followed carefully!
Do a hard reboot of the self-checks computers. (Press the power button on the computer until the screen turns off. Release the power button, wait a few seconds then turn the computer back on.)

Once you have an "Online" Polaris self-check screen, patrons can begin checking out items.
On staff computer, DO NOT CHECK-INS UNTIL ALL OFFLINE FILES HAVE BEEN UPLOADED TO THE POLARIS SERVER AND PROCESSED. Whoever is in charge at your branch will let you know when you can begin checking in.
Clear out OLD transaction files prior to the 3rd
Make sure you have the most recent Offline files from \proddb.clcdpc.org\Offline (built each morning)
Expresscheck use requires that patron barcode is in the offline file. Newly registered patrons that were registered during offline will NOT be able to use expresscheck.
Expresscheck does not BLOCK for excessive fines if you'd like to block patrons with excessive fines from using the Selfcko, you'll need to remove them from the PolPatrons.mdb file using a SQL script in Microsoft Access.
Process transactions files separately for each branch (log into the branch you're processing the files for)
Make sure your offline files are being backed up. Or optionally you can store offline files on a local network file share.
When you go online, you can checkout and process the offline files but do not check in until CLC gives OK
You cannot handle fine payments in offline
There will be no impact for existing members on hold placement
There will be no impact for existing members for technical services
***Find in the manual the section that defines warnings vs errors
***Is there a way to disable the prompt for offline mode in ExpressCheck?
***Will the SIP IPs be redirected to the training server or the names?
Loan periods will be the same across all checkout types, you may want to batch together checkouts based upon material type to give then special duedates
PAC will be redirected to the training PAC with information current as of April 2nd. Patronis will be unable to login.
You may need to check the offline receipt printer settings.
Patron 'Last Activity Dates' will not be updated.
If you want to test offline mode and your PC is set to auto login. Choose the File -> Log off option from the toolbar, then select File -> Login. You'll be prompted for your username and password. Check the box below the password prompt for Offline mode.