Alex Graham
00140 Polaris OFFLINE Circulation
The Polaris Offline Circ module is used when the Polaris system is down due to an unforeseen situation or a system upgrade. If the system is going to be down for a few minutes to an hour you can use such methods as scanning barcodes into a word document or hand writing. Once the system is back online you can scan or type in the transactions taken while offline.
Use Offline Circ for CHECKOUT only – do not check in materials.
It is possible to enter a new patron record in Offline circulation; however, a separate and dedicated computer must be used for loading of new patron records. If you load new patron records the transaction file on that computer must be uploaded prior to the transaction files on the other circ computers.
This material is being used as the example in this document:
31871001642765, Star Trek Nemesis, DVD Wagnall's Memorial Library
Each morning, on each Circ station at your library, Circ Staff will need to verify the current date in the .mdb files. You can check the date by opening up the Offline Shortcut icon on the desktop. If the date listed is not the current date circulation staff should notify the IT Department. The correct date is needed to have the most recent data to use in the event of using the Offline Mode.
***NOTE: In the event of a network outage, please report the outage to your local tech staff and to CLC before going into Offline Mode. If the problem can be rectified quickly, then Offline Mode may not be necessary.
This screen shot shows the .mdb files in the proper local directory on the Circ station's C: drive after it has been copied down from your local server via the daily script.
To start Offline Mode , launch the Polaris client and check the Work off-line box. Logins do not require a password or domain once you check the offline-mode box, but the username DOES need to be in the Polaris local offline database (.mdb file). It does not hurt to leave the domain name in place. **Note: "administrator" is just the example in these directions. You should use the user name you usually use for your login.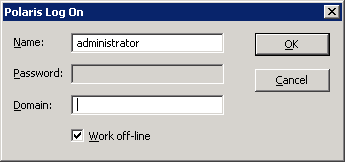 This screen shot shows the .trn file which was created at login and is actively engaged with the Polaris client offline-mode as long as it is open. Circ staff will need to close out of the Polaris client offline-mode every couple of hours to keep these .trn files to a reasonable size and to prevent loss of data if the PC crashes
Once you are logged in, go to Circulation, Check-Out to begin work. This screen shot shows that an item was just checked out to a patron in offline-mode. Be sure to set the Loan Period to 21 days.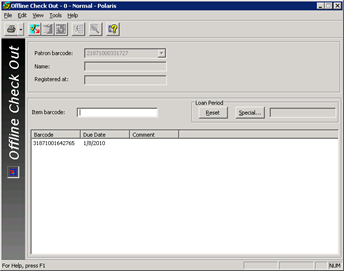 When you are ready to process/upload your data, login normally and go to Circulation, Bookmobile.
You will see your file(s) ready to be uploaded, or you can click on Find File and browse to the file(s). The default path is indicated here. You will also notice that you can award free days as you process these transactions. Choose the file(s) from the window by clicking and holding down the Ctrl key, and then click on Upload File to start processing. (Holding down the Ctrl key allows you to choose multiple files.)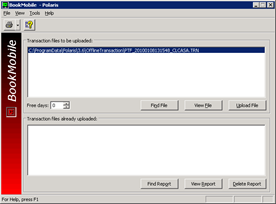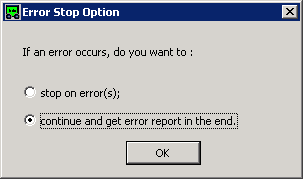 When you click on the Upload File button to begin processing, you will get this dialog box every time and the correct default setting is shown here.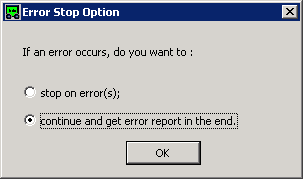 This screen shot shows that all files have been processed, and there will be a .log file for every .trn file that has been processed.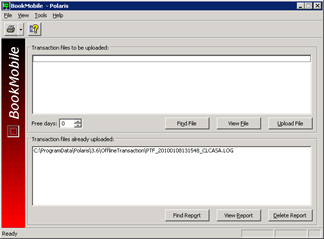 You can click on the View Report button to see the results of the processing. This screen shot shows one transaction with no errors or warnings.
The next example shows what a warning looks like.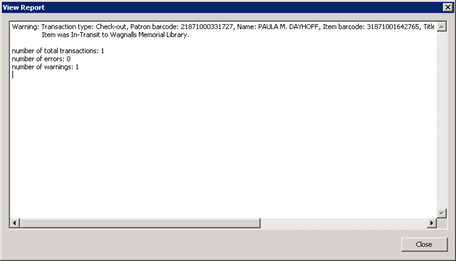 ****** IMPORTANT NOTE:** It is necessary to process your Patron Registration files first, before your transaction files, to avoid warnings and errors. That is why Polaris recommends that one Circ station at each site be dedicated to Patron Registration and that the Patron Registration transaction files should be processed BEFORE the other transaction files.
*****You no longer need to contact CLC before processing your data, but you DO need to process your data BEFORE going live again in the Polaris Client.
******Finally, Do Not Check-In Items while in Offline Mode
Using Self-Checks Offline
Going into Offline Mode on the Self-Checks:
If the network is down before the Self-checks are turned on the Self-checks will ask when they boot up if you want to use Polaris Offline. Press "Yes" on the touch screen to go into Offline Mode.

If the network goes down during the day, the Welcome screen will freeze up and patrons will not be able to scan or type in their barcode number. Reboot self-checks so that you get the offline prompt and press "Yes" on the touch screen to go into Offline Mode. (You will need to do a "hard" reboot – press the power button on the computer until the screen turns off. Release the power button, wait a few seconds then turn the computer back on.)

Once in offline mode patrons will be able to checkout only if they have their library card to scan. This is done for patron security account reasons, since patron PINS cannot be verified against their barcode in offline mode.
When System comes back online/Uploading offline files to the Polaris server:
These steps are critical to making sure that patron accounts stay accurate so these steps must be followed carefully!
Do a hard reboot of the self-checks computers. (Press the power button on the computer until the screen turns off. Release the power button, wait a few seconds then turn the computer back on.)

Once you have an "Online" Polaris self-check screen, patrons can begin checking out items.
On staff computer, DO NOT CHECK-INS UNTIL ALL OFFLINE FILES HAVE BEEN UPLOADED TO THE POLARIS SERVER AND PROCESSED. Whoever is in charge at your branch will let you know when you can begin checking in.

For staff PCs: Follow the uploading and processing offline files instructions.

For Self-check PCs, an appointed Circulation person in charge or an IT Staff
person should do the following: If assistance is needed through the week the
CCCS can be called upon for help. If assistance is needed on the weekend at a
branch location the IT staff may be called at their cell phone numbers.

Run the script named SelfcheckTranctCopyUpScript

You will see a black window with white writing while it downloads files from all self-check machines. It will transfer them in this order Selfcheck1, selfcheck2, etc.

If you see a message that says something like "Duplicate files already exist" or no files found to download, this means that particular self-check was not used and there are no files on it to upload. It could also mean that self-check is off. If you know for sure that machine was used and get the message above, please start the machine and run the script again. Otherwise, just wait for the script to run and when it is finished it will automatically close the black window.

You are now ready to upload and process the files by using the Polaris Offline instructions.